Declarators Success Story: Perseverance Is Key To Success
Full article at: https://www.exabytes.sg/blog/success-story-perseverance-key-to-success/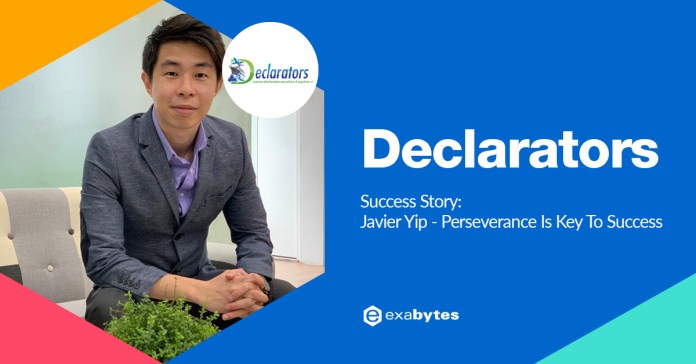 Our Founder and Managing Director, Javier Yip was selected to be interviewed by the representatives from JCI (Junior Chamber International) Marina for clinching the Singapore Young Entrepreneur Award for year 2021
Taking the leap of faith, believing in himself and through great perseverance, Javier Yip transformed Declarators from a startup to one of the top established declaring agents in Singapore.
Declarators is a one-stop service provider for your permit and customs brokerage needs. The journey of Declarators started when the founder, Javier Yip saw the opportunity in the declaring agent industry and decided to pursue his own vision and beliefs. With 9 years of freight and customs compliance experience under his belt, he left his job and started his journey as an entrepreneur.
Tell us more about Declarators.
Declarators is a multiple award-winning Declaring Agent and a value-added logistic provider. Our main businesses include customs permit declaration, Carnet/COO applications, local dispatch, manpower deployment and on-board courier.
We were awarded by the Straits Times as one of the fastest-growing companies in SG, ranked 19th this year. As of August 2021, we have a team of 37 employees.
We have also commenced our first overseas office in Malaysia earlier this April 2021.
How did Declarators come about? 
While working for my previous company, I had encountered a poor customer service experience with one of the declaring agents. I also foresee an increasing demand for imports (especially e-commerce). Hence, I decided to take the plunge just right before my marriage and started Declarators in 2014.
Who are your audiences?
Our primary audience would be freight forwarders, transporters, exporters & importers from all types of industries.
How do your customers find out about Declarators? 
Most of our customers find us through online search and word of mouth.
Share with us a challenge you faced and how did Declarators overcome it. 
The first year was extremely challenging. We were offered a contract that required 3 manpower to perform the daily task. Not many believed in my vision and I also had a few friends who rejected my proposal to join me full time.
Somehow I managed to recruit a relative to kickstart our business but she left within 3 months. I understand it is extremely difficult to hire the right person to join an unproven startup with an uncertain future.
Fortunately, through grit, perseverance and of course learning through experience and hiring mistakes, I was able to stabilize our organization and further expand to where we are today. Throughout the building process, I have never taken any vacation for 4 years!
Do you think that having a website is important for your business? 
Having a great website is a must for all businesses.
Between 2015 and 2020, we had a very basic website mostly designed by myself, which was quite sub-standard. Covid-19 forced us to rethink our strategy and we only manage to completely revamp our website last year through engaging professional web designers.
Our website interface looks so much better now although there is still much room for improvement.
Why is a website important for businesses? 
Having a website and online presence strategy allows you to market your business online. A website is also important because it helps to establish credibility as a business. Most importantly, people will know who we are through our profile and find out more about the services we offer.
How has digitalisation affected your business? What are some marketing tools or strategies you are using?
Digitalisation has taken our organization to a whole different level. Our growth in terms of revenue has increased, and we have our operating costs reduced by eliminating redundant work.
Since Covid-19 last year, we have digitalized our Human Resource, Courier Service Operations, Accounts, Marketing and even Medical Benefits. We are also reachable on Facebook, Linkedin, Instagram, Youtube, Twitter, Telegram, Tik Tok, Pinterest, Glassdoor, Indeed and Glints.
What do you think can be done to help businesses go online? 
There are many grants available from Enterprise Singapore. Tap on these grants with the help of an approved vendor to scale your business.
Previously our human resource processes were manual, hence much time was spent on administrative tasks involving paperwork. After digitalization, our employees can apply for leave, check their payslip and clock in time attendance with just a few clicks on their phones.
Furthermore, our costs were greatly reduced as most grants cover up to 80% of the original price.
Share with us your positive experience with Exabytes. 
Exabytes is our hosting server for our in-house delivery app known as Collection, Delivery and Management System (CDMS). The connection is very stable, without any downtime and the 24-hour tech-support team is very responsive and helpful.